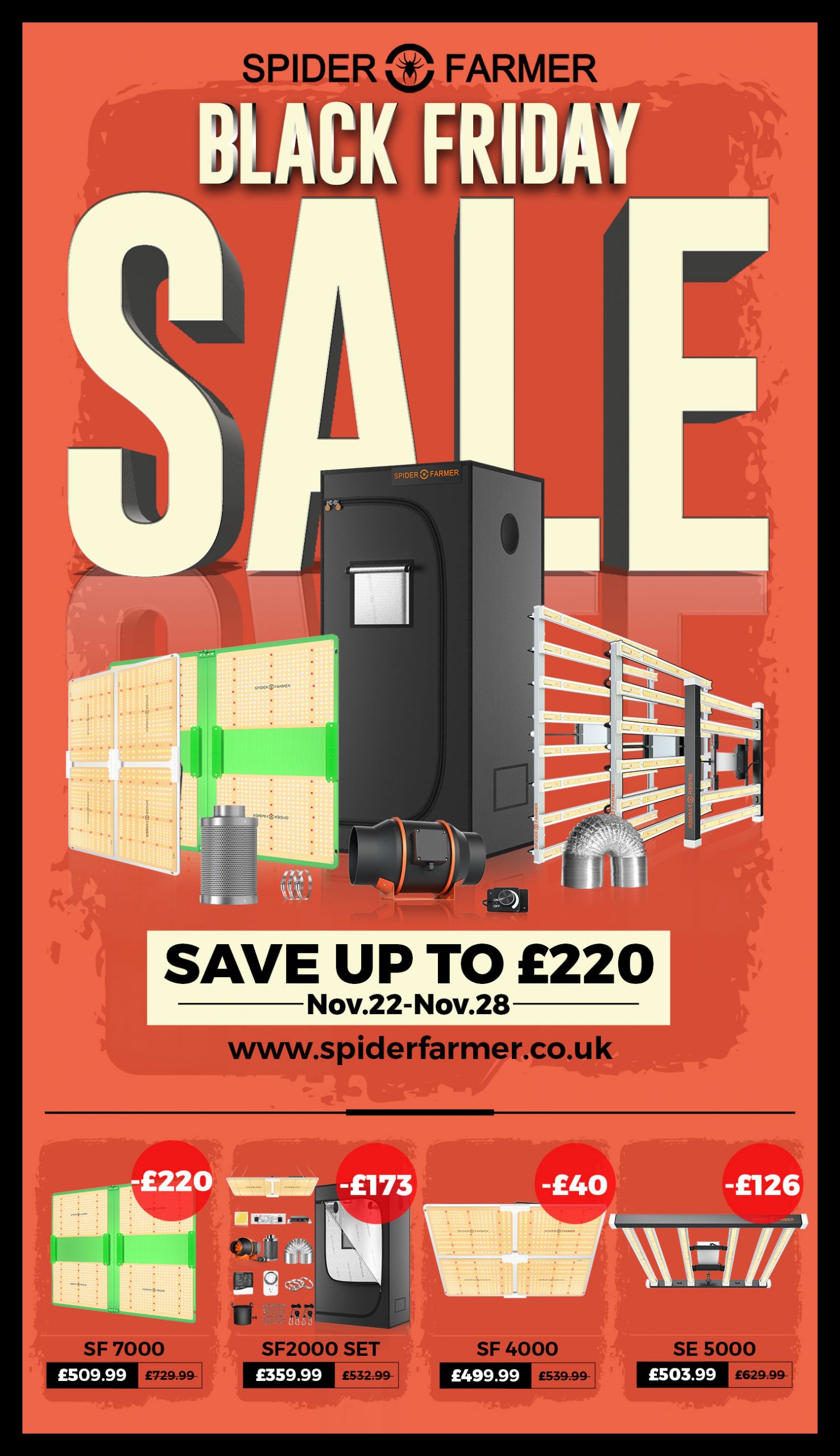 Spider Farmer Annual Black Friday Promotion Is Now Live!
We're offering the best discounts and bang for your buck from the world's best growing products.
This year we've made it easier than ever to get your hands on bundles of free seeds with a spend tier option, each tier offering its own free products and benefits coupon.
Spider Farmer UK Black Friday Promotion:
 1) When the products in your cart reach a spend level of £600, £800, £1000, the related free Black Friday Bundle will be added to your cart.
If you have products valued at £600 for example, the Black Friday Bundle #1 will automatically be added to your cart. Spend £800 or more and your cart will update your FREE bundle to a Bundle #2.
And we're also offering FREE SHIPPING, No Tax for our all products. UK shipping.
 2) Find our extra coupon in our blog and products description . extra £20 coupon use to our SE series only. 15 pcs . extra  £100 coupon for all products, 1 pcs.  Limited 1 coupun per customer*,and use it during black friday sale only.
3) Drop Price at 25th-26th.Nov for 4 item, best price to you. 
The best news? All other Spider Farmer promotions, or freebies and our Hide & Seek coupon and drop price…. are still up for grabs and available, meaning you can get a huge number of bonus products with this Black Friday promo.
What do the Bundles Look Like?
Glad you asked!
Fem Bundle #1 (spend £600)
Extra Get Free 60x60x140cm Grow Tent
Fem Bundle #2 (spend £800)
Extra Get Free 4 inch filter Fan
Fem Bundle #3 (spend £1000)
Extra Get Free 6 inch Grow Kits