Male vs Female Cannabis Plants | What's the difference?How do you tell female plants?
Marijuana plants show gender,Male Cannabis,Female Cannabis and Hermaphrodite Cannabis. And the sex matters a lot to the grower.That's because only female plants produce buds.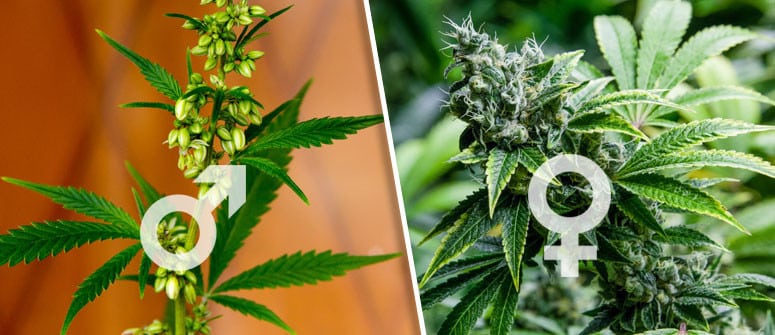 Male plants essentially produce pollen which is needed for cannabis plants to naturally reproduce; seeds occur when there are male plants in the mix.You won't be able to tell them apart until they begin to flower, which is when plants begin to show their sex. Male weed plants grow "balls" that open up to let their pollen out, ending up looking like a small bunch of flowers. You'll need to get rid of them way before this happens. If they manage to release their pollen it'll be too late. They can take up to three weeks to burst. If you're still not sure how to tell them apart, male flowers do not have any pistils on them at all.
Female plants are basically what everyone is after when growing cannabis, as these are the ones that make buds, which is the part of the plant that contains the most THC. With just one male plant and a minuscule amount of pollen, your plants might end up filling their flowers with seeds. If you have male and female plants in the same growing area, the buds grown there will only produce seeds so you won't be able to smoke any of it. You can tell females apart due to the fact that their flowers don't fully close, they're actually quite open and they produce little hairs called pistils. They're incredibly easy to recognize, as the first thing they produce are their pistils, which male plants do not have at all.
Hermaphrodites are a type of plant that contains both male and female flowers, so they will produce buds but they will also pollinate those buds and the rest of your plants. Plants may naturally become hermaphrodites or be turned into one due to stress. Both female and male plants can turn. There are many factors that can stress out your plants and end up turning them, such as extra light when they're supposed to be in the night cycle, too much or not enough water, certain insects or pathogens, watering with cold water, or even a badly done transplant. Hermaphrodites aren't the best type of plants to keep around, as they can produce buds but it's definitely a risk because they might pollinate the rest of your plants.