【MAXIMUM UNIFORMITY & EFFICIENCY】: The uniquely designed 4 bar-light LED provides more uniform canopy coverage, especially the outer edge cultivation area. The SE3000 LED grow light uses 896 SAMSUNG LM301 diodes with a power of 300 watts and a power of 822.82umol/s, achieving an impressive PPE of 2.75umol/J, covering a 3'x3′ high-yield full-cycle growth.
【ADVANCED FULL SPECTRUM & DIMMABLE】The full spectrum (380-410nm, 660-665nm, 730-740nm, 2800-3000K, 4800-5000K) is very suitable for vegetable flowering, and it is also suitable for all stages. The dimming knob can adjust the light intensity according to different growth stages.
【PASSIVELY COOLED & DETACHABLE DRIVER】 The bar light design and the aluminum on the back contribute to better airflow and heat dissipation. The SE3000 grow light is equipped with a detachable driver and a long power cord, which can reduce the environmental heat in the growth space and extend its life. With the waterproof circuit board, easy to install.
【DAISY-CHAIN DIMMING】 The daisy chain function allows you to connect up to 15 SE3000 LED grow lights-dimming multiple lights at the same time. Widely used in commercial planting (canopy and vertical), climate room, home garden, home planting (planting box and tent), greenhouse cultivation, pipeline cultivation, hydroponics.
【VALUE FOR MONEY】 SPIDER FARMER LED grow lights are often been copied, but there will never be our quality or promise. We provide 5 years of after-sales service from the local repair center. Make sure you buy an authentic Spider Farmer grow light, which can truly meet your needs from high-quality grow light at an affordable price. If you have any questions, please feel free to email us and we will help you solve it. The quality is assured by our support! ! !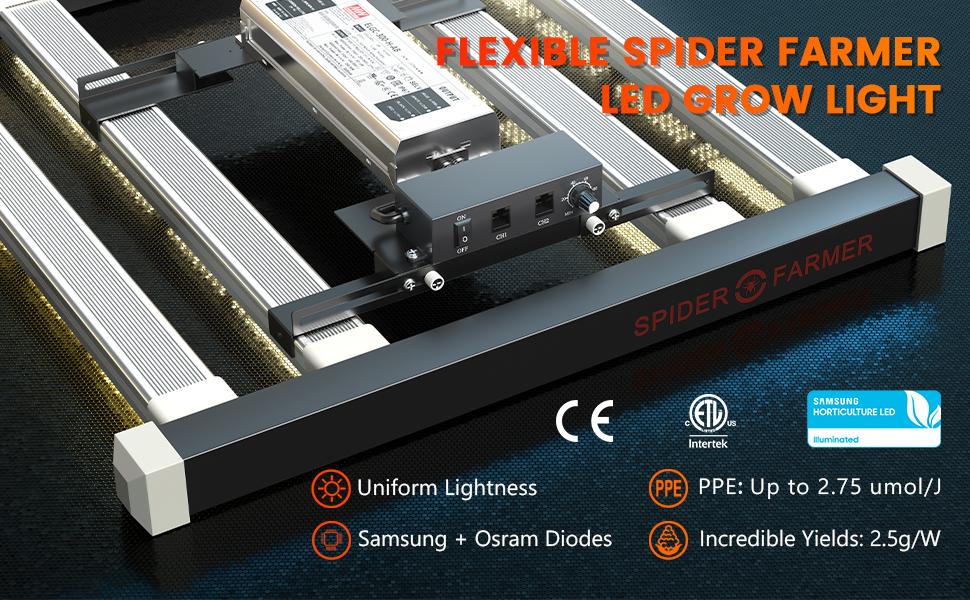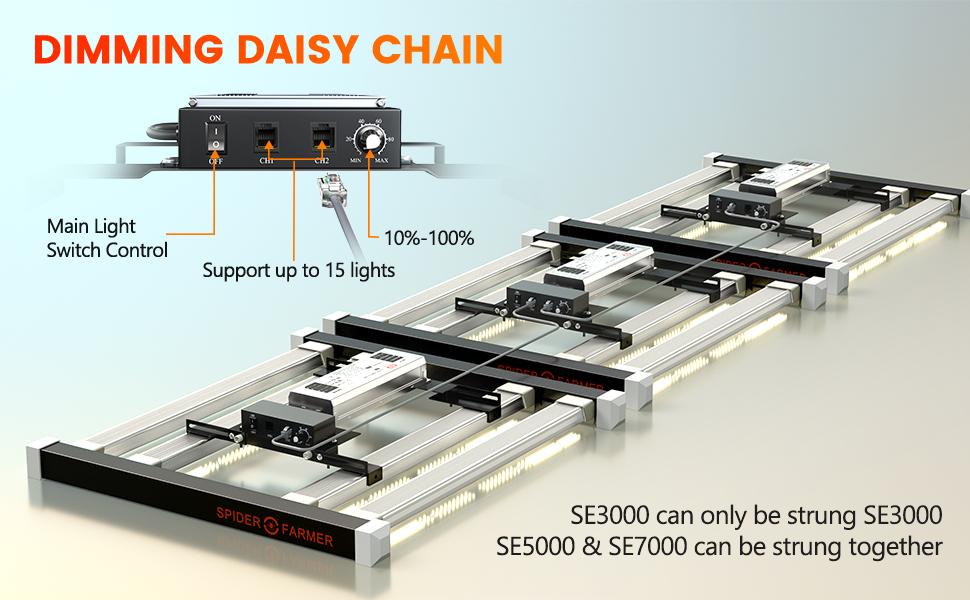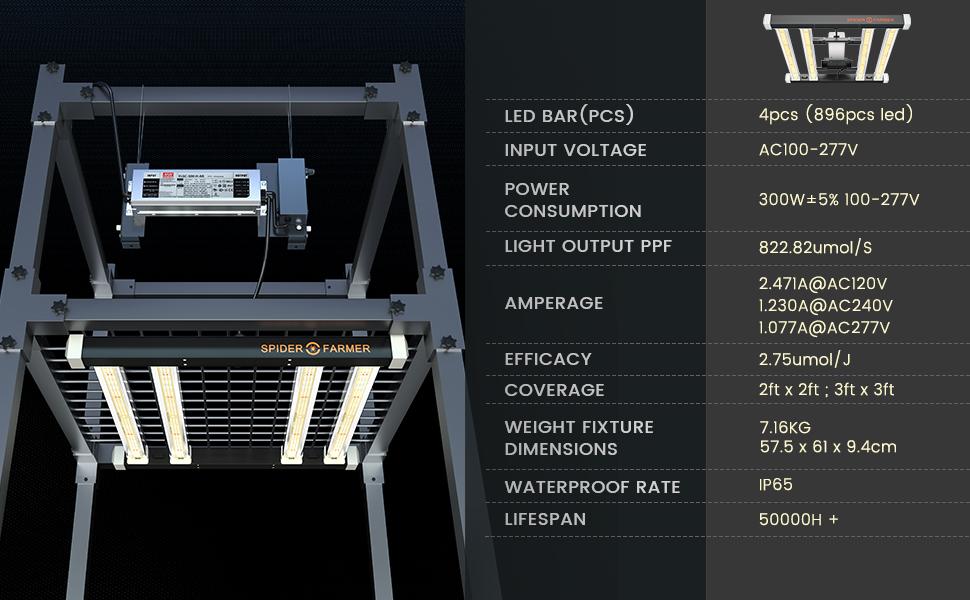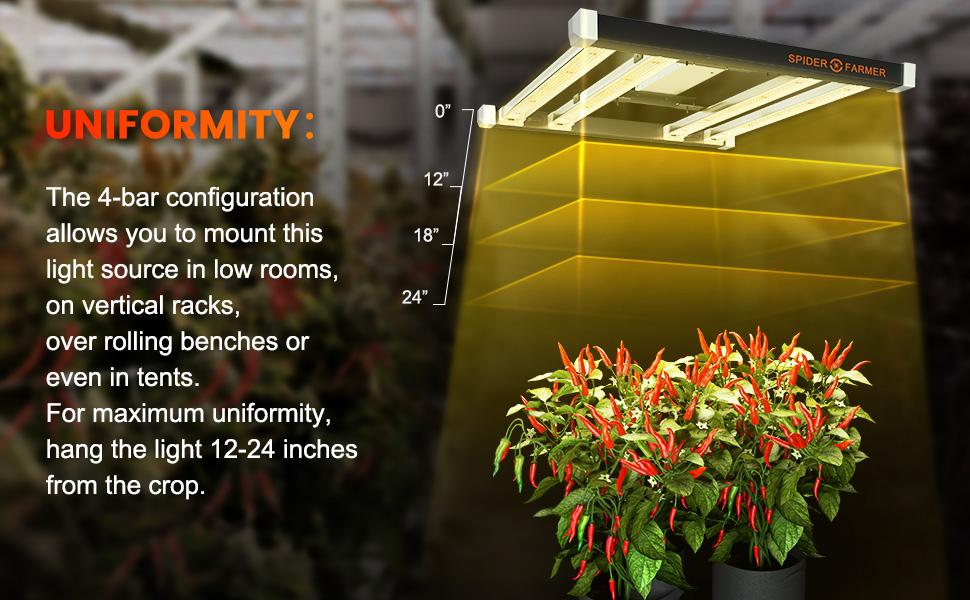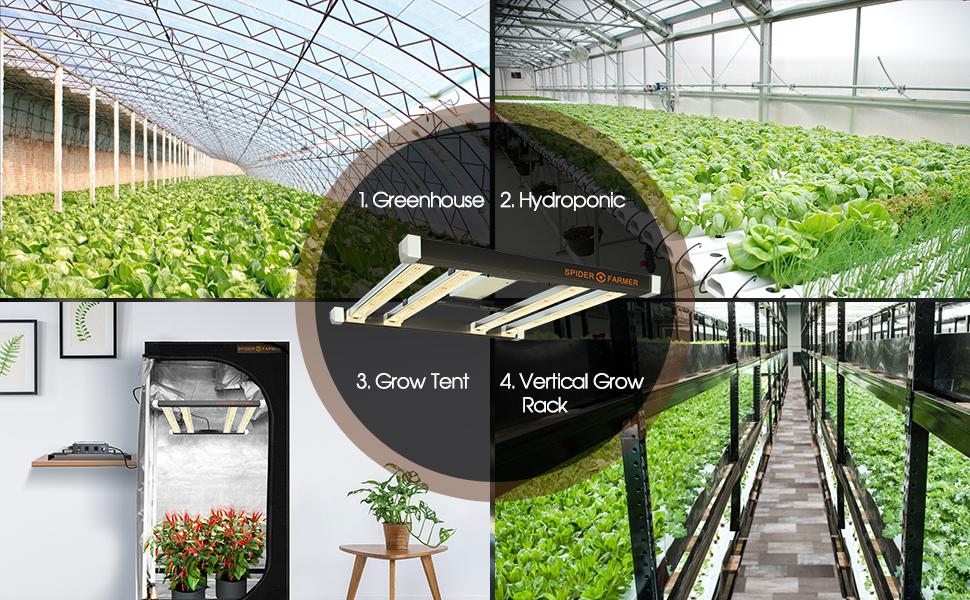 Specification

:SE-3000

Spectrum:

380-410nm,660-665nm,730-740nm,2800-3000K,4800-5000K

Par Value:

822.82umol/S

Coverage:

Core Coverage: 2*2FT(Commercial Flower) Max Coverage:  3*3FT(Personal Flower)

Lumen:

52828.78Lm±5%@AC120V 52380Lm±5%@AC240V 52249.6Lm±5%@AC277V

Power draw:

300W±5% 100-277V

Light Size:

575*610*94MM

Package Size:

660*335*230MM

Gross Weight:

6.3KG DB 0dB

Input Voltage:

AC100-277V

Frequency:

50-60HZ

LED:

896 pcs

Working Temperature Indoor:

Veg : above28℃(82.4℉):16-24″; Flower: above28℃(82.4℉):Early flower:12-18″ Mid flower:8-12″ Late flower