What Color Light is Best for Indoor Plants Growth 
Plants rely on light for photosynthesis, a crucial process that enables them to produce energy and grow. However, not all light is created equal when it comes to plant growth. Different colors of light have varying effects on plants, influencing their development, flowering, and overall health. In this article, we will explore the question, "What color light is best for plant growth?" and offer you some best LED grow lights that cater to your specific needs for the growth light spectrum. 
What Color Light is Best for Plant Growth?
Some of you may already know blue and red light are two vital growth light spectrums that significantly impact plant development, the thing is, what role do they play? Moreover, is it true that blue light is better than red light, or vice versa? Let's check them one by one.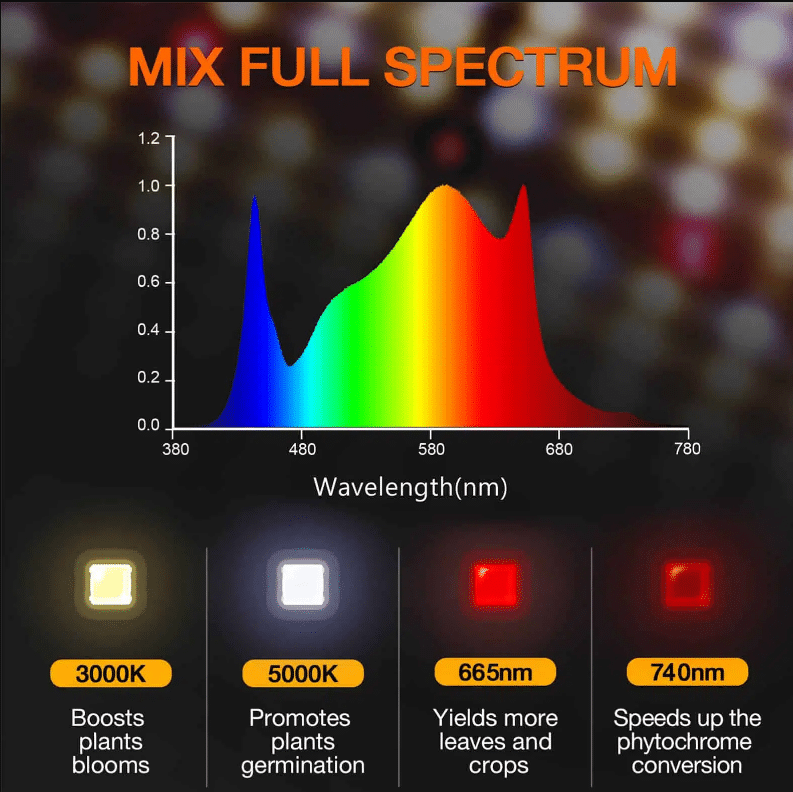 Blue Light
Blue light is crucial for promoting healthy leaf growth and strong root development. It is absorbed by chlorophyll and triggers photosynthesis, contributing to the overall growth and vigor of plants. Blue light is particularly beneficial for seedlings and young plants as it encourages compact, sturdy growth. Moreover, blue light can help regulate plant hormone levels, influencing phototropism and ensuring proper orientation towards light sources.
Red Light
Red light plays a vital role in the growth and flowering of plants. It is a primary driver of photosynthesis, stimulating the production of chlorophyll and facilitating the conversion of light energy into chemical energy. Additionally, red light enhances the flowering process, making it essential for plants that require abundant blooms.
Blue Light vs Red Light: Which Is Better?
It's not hard to tell that blue light is best for the seedling stage, while red light works best for the flowering stage. However, nothing's better than a mixture of both blue and red light. 
For optimal results, it's often recommended to use a combination of both blue and red light during different stages of plant growth. The ratio of each light can vary but some experts would recommend 1:5 blue to red light. How to control and maintain a close-to-perfect ratio? An LED grow light is ready to help. 
LED Grow Lights for Indoor Plants
Grow lights are given high credits in terms of mimicking natural sunlight and backing up plant growth. Many modern LED grow lights are designed to offer customizable light spectra, allowing you to adjust the intensity and ratio of blue to red light. By tailoring the light to your plant's specific requirements, you can create the ideal growing environment and achieve the best possible outcomes.
At Spider Farmer, we offer a wide collection of LED grow lights for all indoor plants. Whether you are looking for LED grow lights for seedlings, vegetables, or succulent grow lights, you can have it all. 
What's more, by applying the full spectrum LED grow lights with dimming potions from Spider Farmer, you can easily switch the light spectrum to catch up with certain growth stages of your plants. This flexibility enables precise control over the seedling, vegging, and flowering stages. Don't hesitate and pick up Spider Farmer grow lights to better cultivate your plants!
● Dimension: 61 X 61 X 7.5 cm ● PPF: 824 μmol/s ● Bar-style – better air circulation, effective light penetration through plant canopies, and reduced hotspots ● Full spectrum – for growing from seed to harvest. ● High Efficiency 2.75 – with high PAR and low power consumption. ● LEDs: 896 pcs ● Passive Cooling Detachable Driver – reduces heat and extends lifespan. ● Coverage: Veg: 90 x 90 cm; Flower: 70 x 70 cm. ● Dimmable and controllable with any universal controller 0-10V ● 5 years warranty
Grow Tent Compatible: 
3'X3′
Recommended Fan Size: 
4-Inch
Conclusion 
Truth be told, there's no best light for your plant growth but a refined combination of both blue and red light can be pretty beneficial for indoor growing. Additionally, other light spectrums such as green, yellow, and IR all contribute to healthy plant development. If you have trouble deciding which light color to apply, using a Spider Farmer full-spectrum LED grow light can easily solve the issue. 
FAQs about What Color Light Is Best for Plant Growth
Is blue or red light better for plants?
Blue light is better for promoting healthy and strong roots in plants, especially during their early stages such as the seedling and vegetative stages. Red light, on the other hand, is more beneficial for flowering and fruit production.
What color increases plant growth?
Both blue and red light are essential for increasing plant growth. Blue light supports vegetative growth, while red light stimulates flowering and fruiting.
Is blue or yellow light better for plants?
Blue. Blue light contributes to essential leaf development and root growth. However, yellow light has limited effects on plant growth compared to blue light.